TenScon – Bolt Tensioning Innovation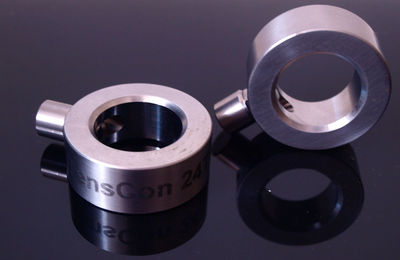 Being one of the main causes of infrastructure warranty claims, ensuring correct bolt tensioning is essential as over tightening can lead to the premature fatigue and breakdown of joints.
Unfortunately, current tensioning methods rely primarily on operator skill and hence have a large margin of error.
Using our TenScon washer removes ambiguity, improves the quality of the bolt tension process and can dramatically improve infrastructure reliability and safety while reducing operational costs.



SO HOW DOES IT WORK?
TenScon washers are factory engineered to accept predetermined loads and have two rotating pins located on their outer diameter. Should a sub-optimal load be applied to a bolt, then one of the pins will move freely and will only lock in place when the bolt has been correctly tensioned. Simultaneous locking of the second pin indicates tension over loading of a bolt has occurred.
BENEFITS
A highly cost effective and efficient bolt tensioning solution
Works with a wide range of industry standard bolts or fasteners
Easily installed and reusable
Reduces maintenance costs and inspection times as TenScon be used with any tightening tool
Improved infrastructure safety as the system provides the highest tension load accuracy (Accurate to +/- 5% of tensioning load)
TENFI – Real Time Monitoring of Critical Infrastructure
Designed to significantly improve the integrity, safety and lower the maintenance costs of infrastructures that rely on bolts as their main means of support, our TenFi System is comprised of three primary parts:
An intelligent TenScon washer
A wireless IM3 industrial dongle and IM3 mobile server, data processing and acquisition gateway
Our state of the art management and monitoring platform
The TenScon washer, with its integrated wireless monitoring dongle, constantly monitors and detects whether the appropriate tension has been applied to the relevant bolt or if tension has been lost.
If the bolts tension is correct then the dongle communicates this information via our IM3 unit to our monitoring platform where a graphical user interface (GUI) displays the status of the bolt as green.
Should a bolt lose tension, it's dongle LED will flash to enable easy visual field based inspection. The changed (failed) state will also be communicated to our TenFi monitoring platform which will not only log the event, but show the offending bolt as red on the GUI. This will return to its green state once the situation has been rectified.
TenFi System information can be accessed by either via laptops, PCs or smartphones and if required users can be provided email or SMS notification of the events or emergencies.
BENEFITS
COST REDUCTION
More efficient use of maintenance resources
Significantly reduced installation times
Lowest total cost of ownership
Able to work with any existing industry standard bolting mechanism
REDUCED OPERATIONAL RISK
Can be used in a wide variety of locations and operational environments
Improved operational risk assessment in emergency situations
Significantly reduced installation and system complexity
Removal of human error associated with the bolt tightening process
More accurate tensioning of bolt loads
Instant and accurate recording of all maintenance activity
HEALTH AND SAFETY
Increased infrastructure reliability
Improved safety and working environments
24x7 Real time notification of infrastructure failure
Readily accessible audit logs to support and demonstrate regulatory compliance